---
The Latest News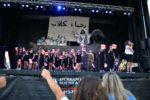 REHEARSALS FOR OUR ANNUAL FAMILY GATHERING FOR KIDS AND THE FERSAN El ADRA Where: Parish Hall (Lebanon Hall) When: FRIDAY, June 23rd 2017 at 6:00 p.m. Who: All children are welcome #23VMG #Shareit Want to volunteer this year? Let us know today!
---

Maronites Canada Facebook Posts:
الأحد الرابع من زمن العنصرة: يسوع يبتهج بالروح رسالة القدّيس بولس الأولى إلى أهل..