---
The Latest News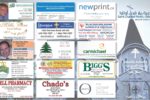 Have you seen our all-new 2017-2018 #WeeklyBulletin? Thank you to all our amazing #sponsors, without you it's never possible! Get all the latest #news now online and in print; week after week, after week! Don't miss out on anything.
---

Maronites Canada Facebook Posts:
السبت الثاني من زمن القيامة رسالة القدّيس بطرس الأولى .17-11:2 يا إخوَتِي، أَيُّهَا..