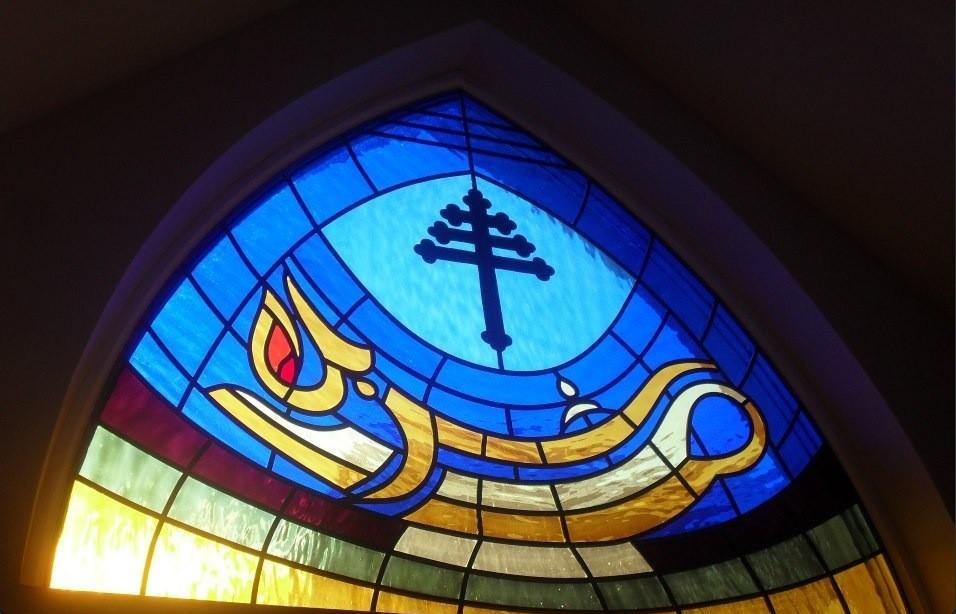 Story of the Stained Glass at Saint Charbel
زجاجيات مارشربل المارونية ـ اوتاوا
Let us tell you the beautiful story behind the stained glass windows found in our church…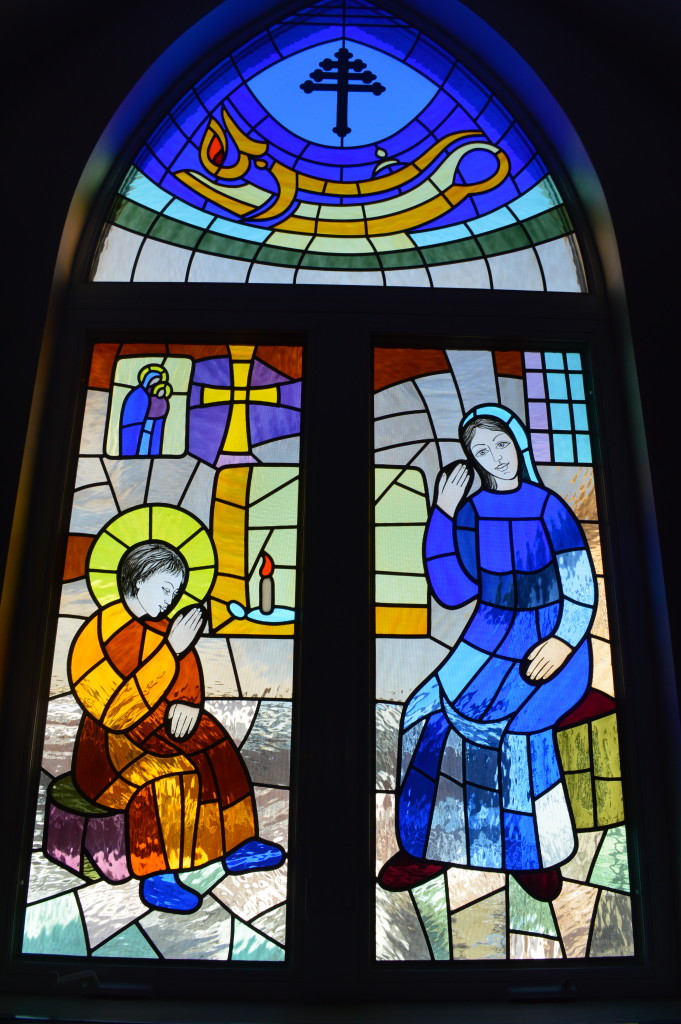 1 Mother Teaching Him Prayers:
His mother teaching to pray in their humble house in the mountain village of Beqaa-Kafra near the Cedars of God.
1 Sa mère lui apprend à prier :
Sa mère lui enseigne comment prier dans leur humble maison dans le village de montagne de Bekaa-Kafra près des Cèdres de Dieu.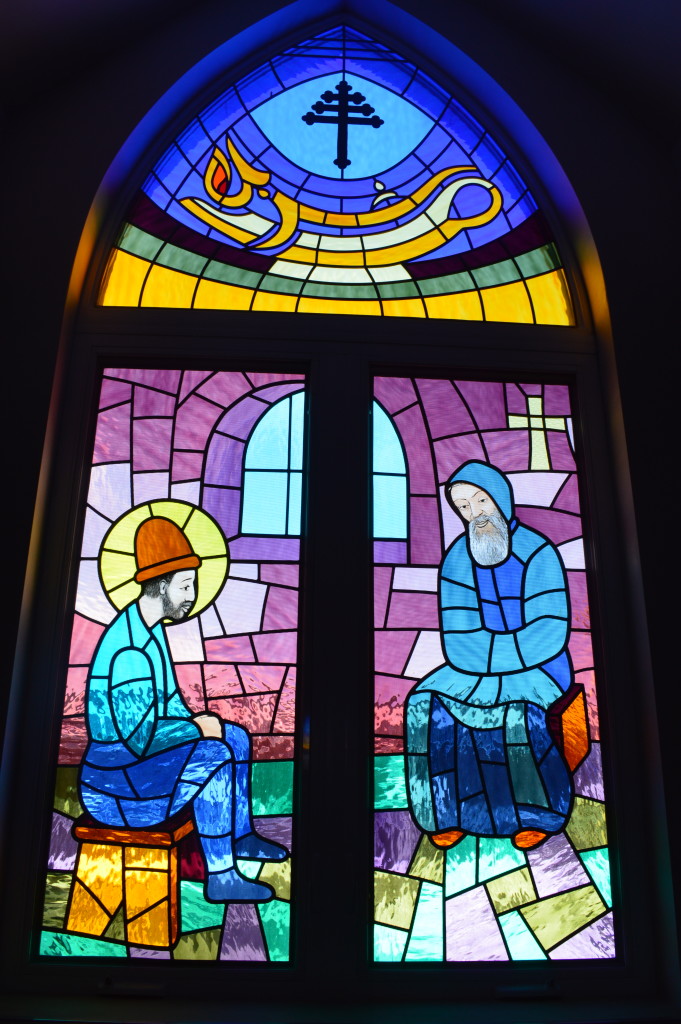 2 Going to the Monastery:
Swept by the love for Jesus, at the age of 23 he was drawn into monastic life and gave precedence to God the creator.
2 En route vers le couvent :
Charmé pas Jésus, à l'âge de 23 ans, il a été établi dans la vie monastique et a donné la priorité à Dieu créateur.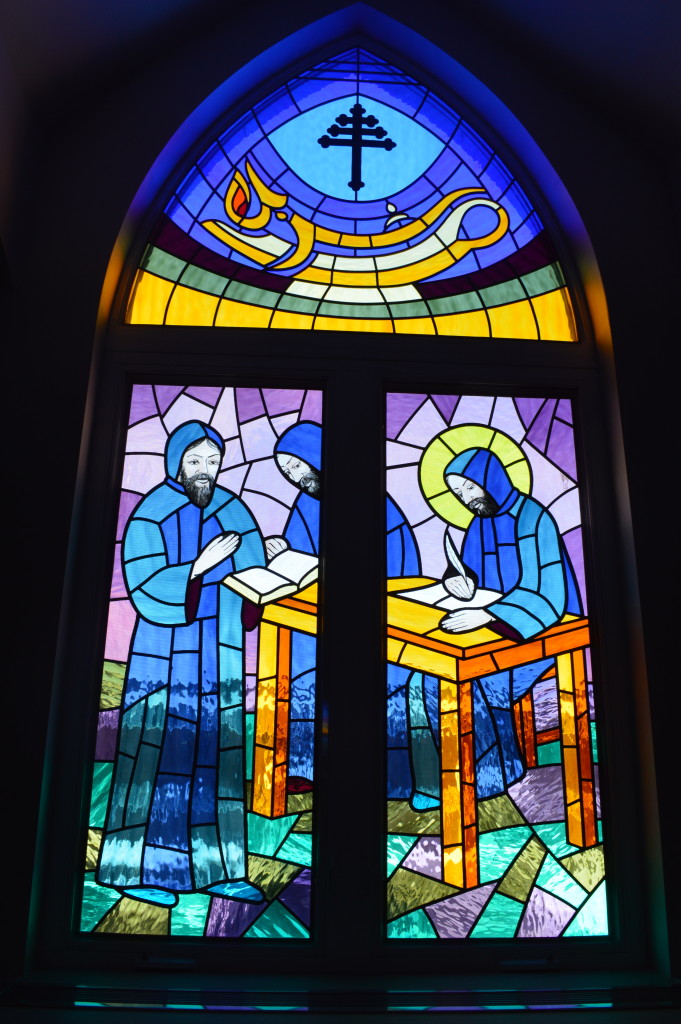 3 Studying in Kfifan Monastery:
He started his theological studies at Kfifan monastery where he met Saint Hardini.
3 Étudier au monastère de Kfifan :
Il a commencé ses études théologiques au monastère Kfifan où il rencontra saint Hardini.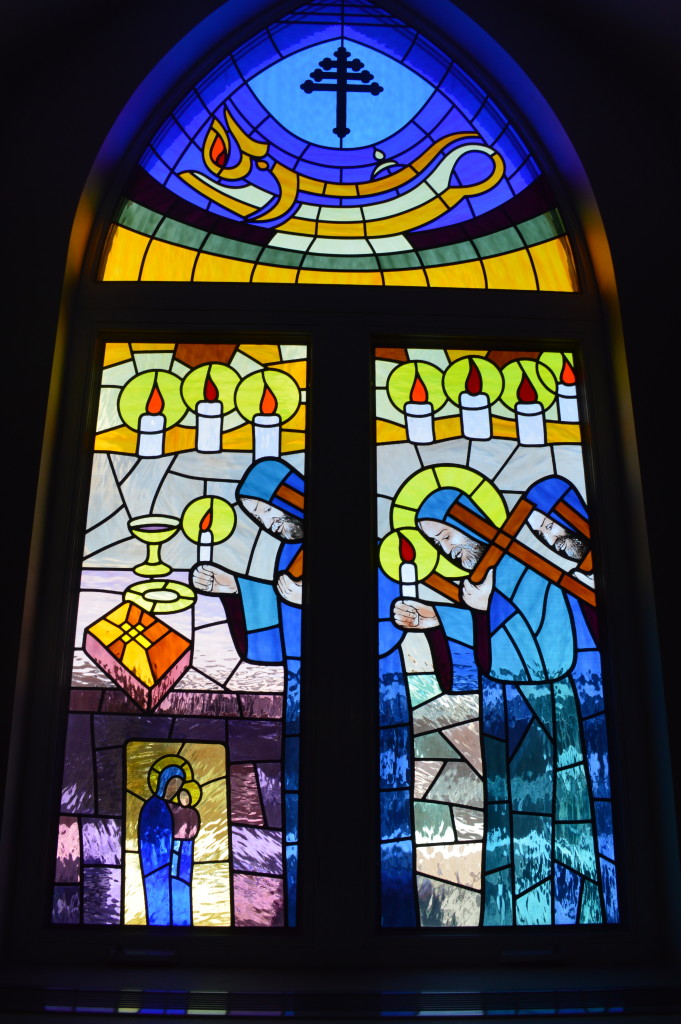 4 Presenting His Vows:
In manifesting his lifelong votive offerings, he united with Christ and they became one in spirit.
4 Saint Charbel professant ses vœux :
En professant ses derniers vœux, il s'unit au Christ et devient une seule âme avec lui.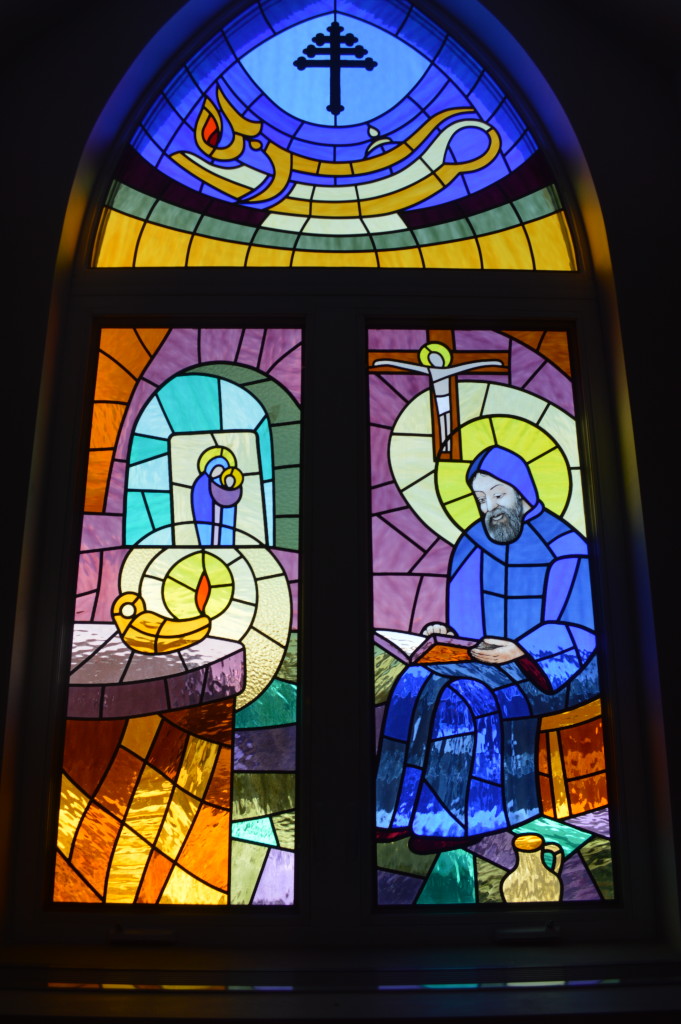 5 Praying and Meditating in solitude:
In his cell, in intimate and direct communication with God, quiet prayers and deep reflections flowed by the almighty's presence in his being.
5 Priant et méditant dans sa cellule :
Sa cellule est le lieu intime pour la communication directe avec Dieu. A travers la prière paisible et la méditation profonde, c'est Dieu lui-même qui le remplit de sa présence.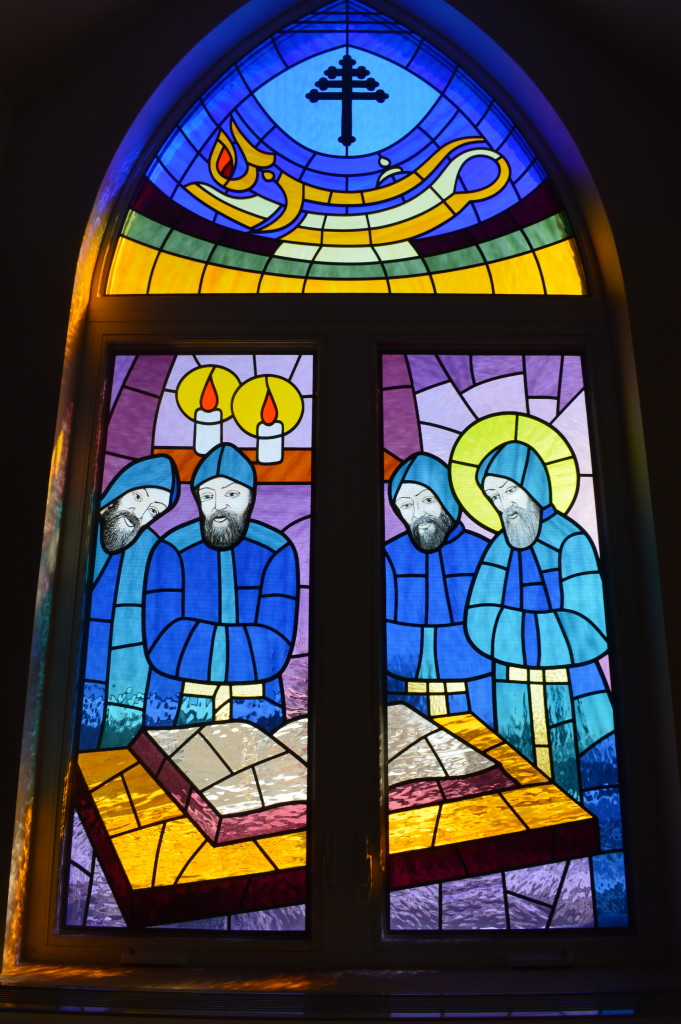 6 Praying with Other Monks:
His prayer at the reading stand was an emotional union with God, and with his brothers in Christ, blending his voice with theirs, in a spiritual harp-like melody, rippling and dancing in the air of eternity.
6 Priant avec ses frères les moines :
Sa prière au lutrin est une union intime avec Dieu et avec ses frères les moines. Il unit sa voix à la leur en un concert spirituel dont l'harmonie vibre à l'éternité.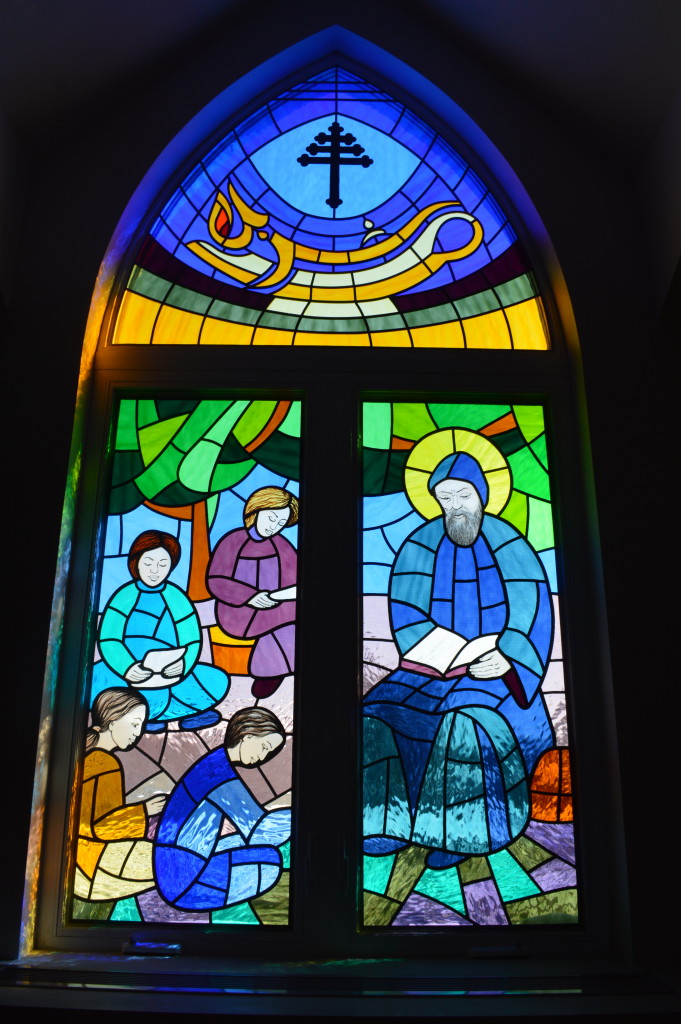 7 Teaching Neighbourhood Children:
He taught them and instilled in their hearts the love for God and saw in them the image of Jesus as a child listening in the temple to the learned explaining the Holy Books.
7 Instruisant les enfants du voisinage :
Il les instruit et sème en eux l'amour de Dieu, percevant en chacun d'eux l'image de l'Enfant Jésus, lorsqu'il était au temple écoutant les savants expliquer les livres saints.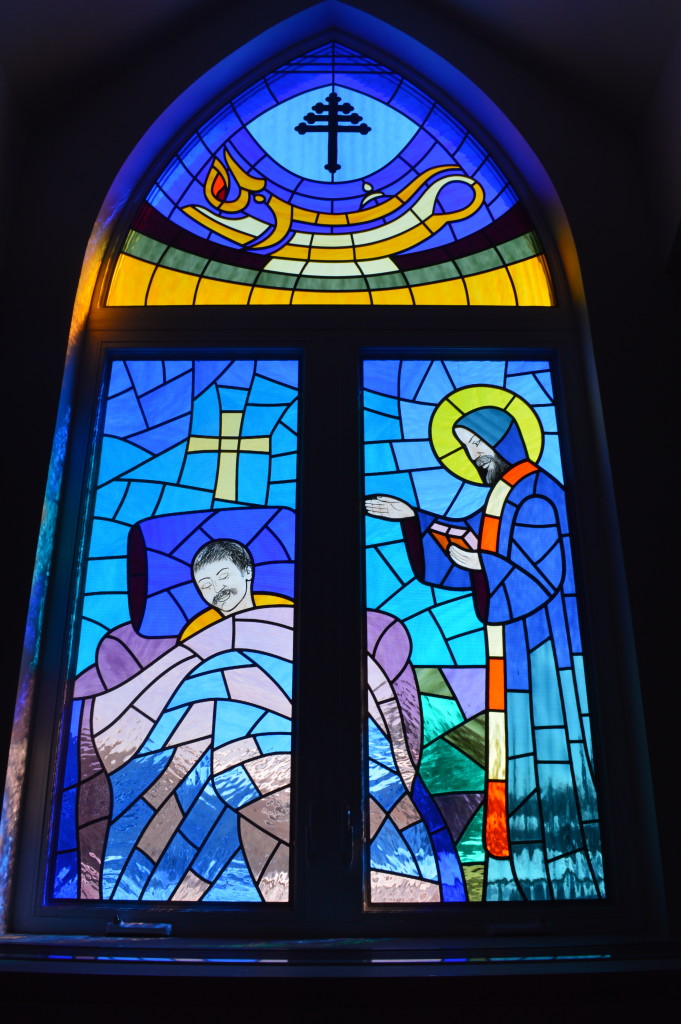 8 Blessing a sick Man:
He carried to the sick person the balm to heal the soul before healing the body.
8 Assistant un malade :
Il porte à un malade le baume de la guérison de l'âme avant celui du corps.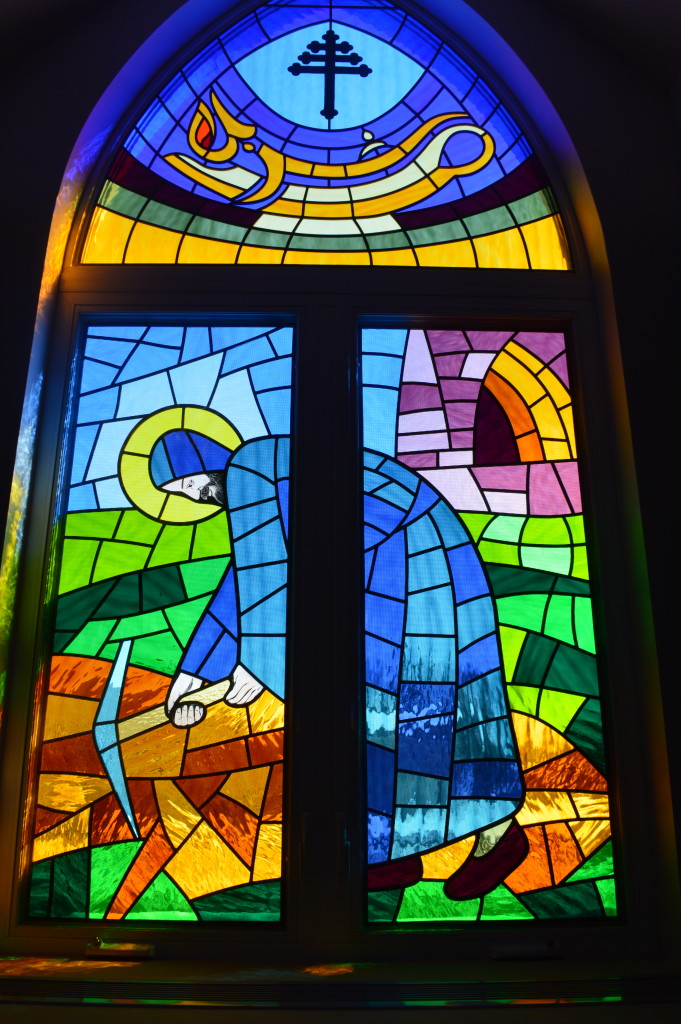 9 Cultivating the Land:
He tilled the land laboriously and the land gave him back generously from its treasures.
9 Travaillant la terre :
Il l'a arrosée généreusement de la sueur de son front; elle lui a rendu ses biens en abondance.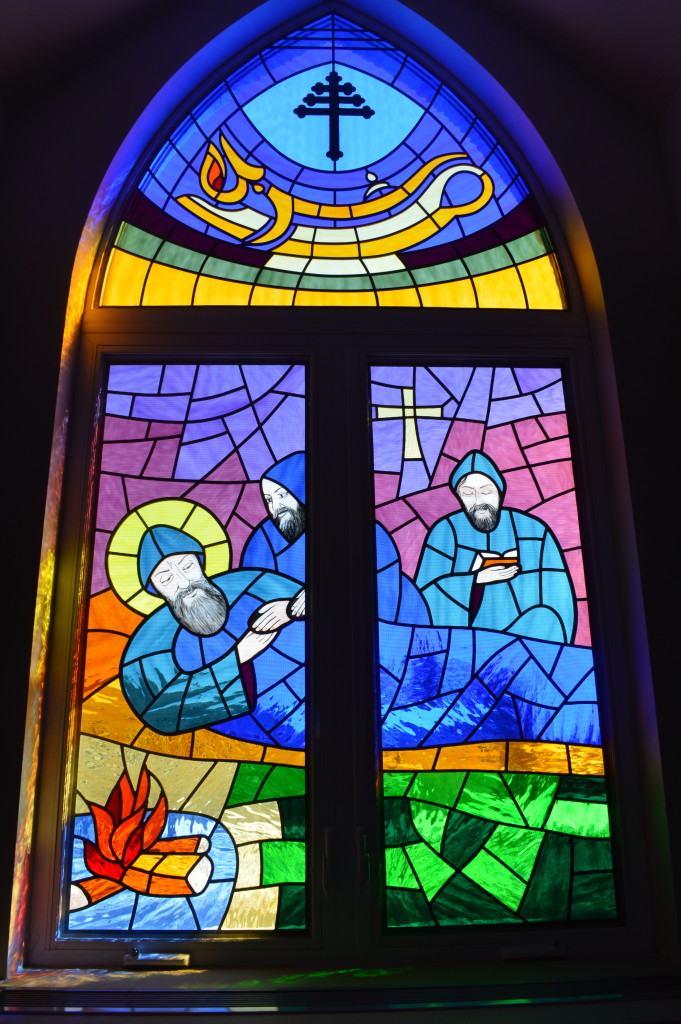 10 In the Throes of Death:
Between the snow of December and the fire in the heart, his agony of death lasted long, until he was frostbitten by death on Christmas Eve; and in him then was lit the fire of a new life and a new birth.
10 Agonisant près de l'âtre :
Entre la neige de décembre et le feu de l'âtre, son agonie a été longue jusqu'au moment ou il fut glace par la mort, la veille de Noël, et où il flamba en lui la chaleur d'une nouvelle vie, un Noël nouveau.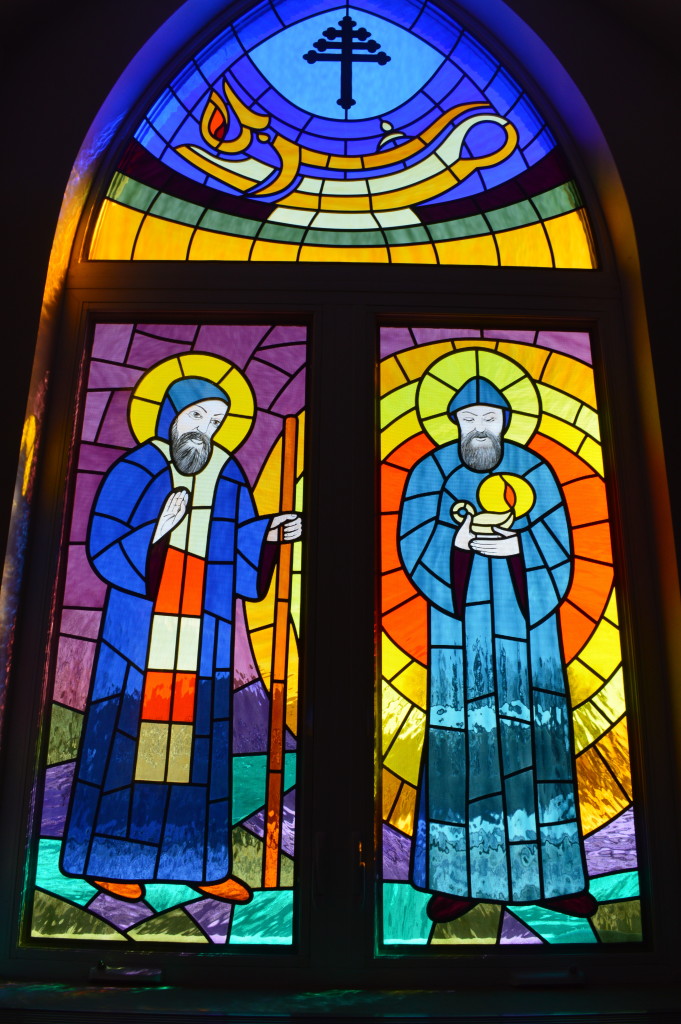 11 Saint Charbel and Saint Maroun:
He rises to sainthood and joins Saint Maroun, the father of the Maronite Church, and the rest of the Saints from Lebanon.
11 Saint Charbel et Saint Maroun :
Il se lève à la sainteté et rejoint Saint Maroun, le père de l'Église maronite, et le reste des Saints du Liban.
---
تعلمه امه الصلاة: امه تعلمه الصلاة في بيتهم المتواضع في البلدة الجبلية بقاع قفرا بجوار ارز 1 .الرب
يذهب الى الدير: ممتلٓا محبة ليسوع, في عمره الثالث والعشرين التحق في الحياة الرهبانية و اعطى 2 .الٔاولوية ٕالى الله الخالق
.يدرس في دير كفيفان: بدٔا دراسته اللاهوتية في دير كفيفان حيث التقى القديس الحرديني 3 .ينذر نذوره: بتقدمة نذوره الرهبانية, اتحد بالروح مع المسيح 4
يصلي ويتامل في قلايته: قلايته هي المكان الحميم للاتصال بالله. يفجر حضور الله في كيانه 5 .صلاة هادٔية, وتاملا عميقا
:المعمودية 6
:مار يوحنا يعمد يسوع 7
يصلي مع اخوته الرهبان: صلاته على "القراية" اتحاد حميم بالله, وباخوته الرهبان. يمزج صوته في 8 .اصواتهم الحان قيثارة روحية, تتماوج انغامها على اثير الابدية
يعلم اولاد الجوار: يعلمهم ويزرع في قلوبهم محبة الله, ويرى فيهم صورة الطفل يسوع, يوم كان في 9 .الهيكل يصغي الى شرح الكتب المقسة لى السنة العلماء
.يصلي على مريض: حمل الى المريض شفاء النفس قبل شفاء الجسد 10 !يعمل في الارض: سخا عليها من عرق الجين, فردت عليه خيرها بسخاء 11
ينازع قرب الموقد: بين ثلج كانون ونار الموقد, كان نزاعه طويلا, الى ان لفه صقيع الموت, عشية عيد 12 .الميلاد, واشتعلت فيه حرارة جديدة, وميلاد جدد
مار شربل ومار مارون: ارتفع الى القداسة وانضم الى القديس مارون، ٔاب الكنيسة المارونية، وبقية 13 .القديسين اللبنانيين